News and Announcements

Instagram profile of RGFC launched
You can follow the news and activities of RGFC on another social media platform. We will share conference pictures and updates @rgfc_iah Instagram profile, as well. You can use hashtag #rgfc-iah if you would like to share a photo of regional groundwater related topics or even a memory of your daily hydrogeology practice.
EGU General Assembly 2019 sessions

We are pleased to invite you to present your work at EGU2019 (7–12 April 
2019, Vienna, Austria) in the sessions supported by the Regional Groundwater Flow Commission.
HS8.2.4 GROUNDWATER FLOW UNDERSTANDING IN WATER MANAGEMENT AND ENVIRONMENTAL PROBLEMS
Convener: Manuela Lasagna
Co-Conveners: Daniela Ducci, Jim LaMoreaux, Judit Mádl‐Szőnyi


Description of the session: 

The session aims to bring together scientists studying different aspects related to groundwater circulation and management. Understanding of gravitational groundwater flow requires knowledge of the prevailing flow system from the local to a regional scale. Moreover, problems connected to groundwater management underline the importance of sustainable development of groundwater.
In this context, the session intends to analyze issues connected to groundwater management and its protection from qualitative and quantitative degradation (e.g. overexploitation, climate change and its consequences on groundwater, and groundwater contamination …) in the context of groundwater flow understanding.
Papers related to methods of defining groundwater flow, preventing, controlling and mitigating negative environmental impacts related to groundwater are also welcome.
ITS2.7/HS11.71/BG1.37/ERE6.8/GMPV3.6 INTERACTING GEOFLUID SYSTEMS – RESEARCH AND INNOVATION
Convener: Daniele Pedretti
Co-Conveners: Marco Masetti, Judit Mádl‐Szőnyi. Marie-Amélie Pétré, Ádám Tóth


Description of the session:

 Geofluid systems are in the centre of interest nowadays due to their significant resources such as groundwater and managed aquifer recharge, geothermal energy and hydrothermal mineral resources. They are the consequences of the interaction among fluids of different nature and the rocks forming the Earth crust. These fluids can act in the deeper part of the lithosphere, they can discharge on the surface forming thermal springs and mineral precipitates, as well, or they can mix with shallow groundwater. Consequently, geofluid systems can be characterized by complex physical, geochemical and microbiological processes and they are influenced by the geological setting, structural evolution, fluid flow systems and preferential flow paths. A strategic management and protection of geological resources related to geofluids, therefore, is indispensable for a sustainable future development of the environment and economies. However, these resources of geofluid systems are handled separately and their interactions are not taken into consideration. Some of the consequences of neglecting the geofluids interrelationships can lead to false prognoses and sub-optimal use of natural resources.The aim of this session is to foster the scientific discussion between those who deal with geofluid systems from different aspects to better understand the interacting geofluids and their economic resources. The session thus welcomes work spanning from fluid flow to hydrological, geochemical, environmental tracers, microbial investigations and numerical and statistical modelling in support of fluid and resource management. The session is supported by the RGFC-IAH ('Regional Groundwater Flow Commission' of International Association of Hydrogeologists) and the ENeRAG ('Excellency Network Building for Comprehensive Research and Assessment of Geofluids') project of EC.
Deadline for abstract submission:  10 Jan 2019, 13:00 CET.
Additional information about the EGU2019: https://www.egu2019.eu/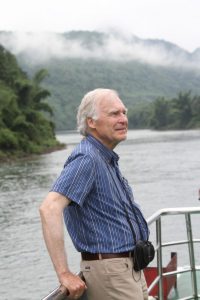 In memory of Ben (GB) Engelen (1937–2018)
We sadly inform you that Ben Engelen a prominent representative of RGFC-IAH passed away on 10 June 2018. He is the author of two very well-known books: Developments in the analysis of groundwater flow system and Hydrological systems analysis: Methods and Applications. Ben's lecture on Xi'an international symposium of RGFC in 2013 was about energy systems, and groundwater flow systems being a part of energy systems.
Apart from hydrogeology, Ben was interested in a large range of fields: the systematic approach, number theory, atomic physics, soil erosion.
You are in our hearts, Ben.
Photo (Guilin, China, 2013) and information of Prof. Renquan Zhang
ResearchGate project for RGF-related papers

The Commission launched a ResearchGate project entitled Selection of papers related to Regional Groundwater Flow. This project was created and is managed by the Regional Groundwater Flow Commission of the International Association of Hydrogeologists (RGFC-IAH) in cooperation with the József & Erzsébet Tóth Endowed Hydrogeology Chair. This project is a selection of international papers related to the research and practical application of regional groundwater flow theory.
You can access the project by clicking on the logo.
If you are interested and would like to be involved, please let us know. After joining, you can add your flow system related papers, books, etc. to the project to have a nice selection of this topic.
The prize of our representative, Samira Ouysse
Samira Ouysse (National Council of Science and Technology, Autonomous University of Zacatecas, México) attended the International Symposium Ecology-2018, 19–23 June, in Kastamonu, Turkey. Her topic was on the study of ecosystems conservation, with the application of groundwater flow systems. The topic was quite new to participants and organizers and they appreciated it, therefore she was awarded as the Young Researcher of the Year. Her presentation's title: Regional Paradigm for Studying Ecosystems Conservation in Baja California Peninsula (Central Desert Region). You can access a related paper here.