News and Announcements
Finalists of the International Problem Solver Competition
Teams of universities competed on 14 February in the first, online test, round. Undergraduate, graduate and PhD students from China, Egypt, India, Iran, the Netherlands, Nepal, Nigeria, South Korea, Uganda and the USA answered the multiple-choice and essay-type questions focusing mostly on the groundwater side of the processes. The following teams qualified for the second round:
By two: Ying Tan and Jiaxin Shi (China University of Geosciences, Beijing)
Cugb_gw: Zhang Yipeng and Wang Qi (China University of Geosciences, Beijing)
GroundwatCH: Ricardo Leonel Marroquín Paíz and Aditya Vikram Jain (IHE-DELFT, Institute for Water Education, UNESCO, the Netherlands)
Pro-gro: Ajayi Abiodun Olugbenga and Arinloye Samuel Adebisi (Federal University Oye Ekiti, Nigeria)
The origin: Ji TaoTao and Tang Xulin (China University of Geosciences, Beijing)
The qualified teams will deliver a practical problem related to groundwater in the form of a short video.
A dedicated session at the EGU General Assembly 2020
The RGF Commission co-organizes a session at the EGU General Assembly, 3–8 May 2020, Vienna, Austria, entitled "Groundwater flow and geofluids system understanding with regard to environmental problems and resource management".
HS8.2.9
Groundwater flow and geofluids system understanding with regard to environmental problems and resource management
Convener: Manuela Lasagna
| 
Co-conveners: Daniela Ducci, Jim LaMoreaux, John Molson, Judit Mádl-Szőnyi, Ádám Tóth, Corrado Camera, Hanneke Verweij
The session aims to bring together scientists studying different aspects related to groundwater circulation, interaction among fluids of different nature and management of groundwater, geothermal energy and hydrothermal mineral resources.
Strategic management of resources and understanding of gravitational groundwater flow, which requires knowledge of the prevailing flow system from the local to a regional and basin-scales, are the key of sustainable future development of the environment and economies.
In this context of groundwater flow understanding, the session intends to analyze issues connected to geofluids systems and their economic resources, groundwater management and its protection from degradation with respect to quantity and quality (e.g. due to overexploitation, climate change, resource development or contamination). Papers related to methods (hydrological, geochemical, environmental tracers, microbial, numerical and statistical modelling) of defining groundwater flow, and preventing, controlling and mitigating negative environmental impacts related to groundwater, including those in developing countries, are also welcome.
The session is sponsored by the RGFC–IAH (Regional Groundwater Flow Commission of the International Association of Hydrogeologists) and the ENeRAG (Excellency Network Building for Comprehensive Research and Assessment of Geofluids) project of EC.
For further information visit: https://www.egu2020.eu/
International Symposium on Geofluids
We are honoured to invite you to the "International Symposium on Geofluids", to be held in Budapest, Hungary, on 8-10 July 2020. The symposium is organized by the József and Erzsébet Tóth Endowed Hydrogeology Chair and Foundation and by the Regional Groundwater Flow Commission of the International Association of Hydrogeologists, in scientific collaboration with the ENeRAG H2020 project of Eötvös Loránd University.
The declared objective of the Symposium is to bring together scientists, professionals, stakeholders to share and discuss all kinds of aspects of geofluids, i.e., groundwater, geothermal energy, hydrocarbon, geogenic contaminations and hydrothermal mineral resources, with special emphasis on harmonized exploration and utilization. We, therefore, welcome researchers in all aspects of geofluids' research. The greater the diversity of interests the more significant will be the result.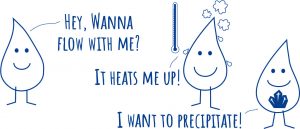 Main Topics and planned Sessions:
Energy flow systems and related fluids in the lithosphere
Managed aquifer recharge and groundwater flow systems
Geoenergy, thermal water and hydrocarbon systems
Natural contamination and hazards of geofluids
Fluid–rock interactions and hydrogeochemical reactions
but of course, all geofluid-related abstracts are welcome.
More information @ http://geofluids2020.hu/
See you in Budapest in July 2020!


Special session at GeoConvention2020
Next year, we are supporting a special session at GeoConvention and it is entitled "The Virtual Spring": effects and manifestations of discharging groundwater and chaired by Judit Déri-Takács.
The session focuses on surface manifestations of flowing groundwater and their application in regional hydrogeological characterization. As flowing groundwater interacts with its environment through various chemical, physical and kinetic processes, it produces numerous in-situ effects detectable on the surface in the discharge area of groundwater flow systems. The concept of "virtual spring" is defined as all groundwater discharge phenomena together in the terminal area of a groundwater flow-system. Phenomena such as springs, distinct water chemistry, soil salinity and mineral deposits, phreatophyte and halophyte plant communities, geothermal anomalies, and certain karstic features carry information about the hydrogeologic environment and can be interpreted in the context of groundwater flow systems. Their observation, interpretation and integration into conceptual and numerical groundwater flow models represent a fundamental component of regional-scale hydrogeological characterizations. The session is organized by the RGFC-IAH and welcomes national and international examples of the application of groundwater-related surface phenomena, as a tool to formulate hypotheses, build conceptual models and/or validate numerical simulations of subsurface flow regimes.
There will be other sessions in the topic of regional groundwater flow:
Regional groundwater flow: from conceptual models to Implementation (Judit Déri-Takács, Jessica Liggett)
Challenges and opportunities in characterizing groundwater's 'intermediate' zone (Brian Smerdon, Grant Ferguson)
Latest advances in geothermal exploration and development in Canada (Stephen Grasby, Grant Ferguson)
Deep Groundwater Sourcing (Brent Bowerman)
Abstract submission deadline is 15 January 2020.
More information @ https://geoconvention.com/

Instagram profile of RGFC launched
You can follow the news and activities of RGFC on another social media platform. We will share conference pictures and updates @rgfc_iah Instagram profile, as well. You can use hashtag #rgfc_iah if you would like to share a photo of regional groundwater-related topics or even a memory of your daily hydrogeology practice.
ResearchGate project for RGF-related papers

The Commission launched a ResearchGate project entitled Selection of papers related to Regional Groundwater Flow. This project was created and is managed by the Regional Groundwater Flow Commission of the International Association of Hydrogeologists (RGFC-IAH) in cooperation with the József & Erzsébet Tóth Endowed Hydrogeology Chair. This project is a selection of international papers related to the research and practical application of regional groundwater flow theory.
You can access the project by clicking on the logo.
If you are interested and would like to be involved, please let us know. After joining, you can add your flow system-related papers, books, etc. to the project to have a nice selection of this topic.