Activities
This page features a selection of RGFC's previous international activities, together with links to additional information, resources and reports. We hope the information encourages you to participate.
Final round and winners of the International Problem Solver Competition
Around a year ago, we announced the list of teams qualified for the final round of our Competition. Due to the currently developed new situation, our lives, daily routines, social activities and work habits have been changed. We were in contact with our contestants to monitor their progress in video-making to give them enough time for preparation. Finally, by the end of 2020, 7 short movies were submitted and now we are happy to announce the final results made by an international jury of 4 experts at the end of this long journey.
GroundwatCH: Coordinated management and sustainability of land use and agriculture. How groundwater is affecting and affected? What are the concerns, limits and effects? by Aditya Vikram Jain and Ricardo Leonel Marroquín Paíz, IHE-DELFT, Institute for Water Education, UNESCO, Delft, the Netherlands
The Origin: The drinking water – mineral water – thermal water nexus: interrelationship and aligned management. Where are the borders in quality and quantity? by Ji Taotao and Tang Xulin, China University of Geosciences, Beijing, China
By Two: Numerical simulation of coupled fluid–heat–matter transport. What are the next-generation application aspects and possibilities? by Ying Tan and Jiaxin Shi, China University of Geosciences, Beijing, China
Miyah: Can Managed Aquifer Recharge (MAR) mitigate groundwater depletion? Issues, aspects and possibilities in groundwater quantity augmentation and quality amelioration by Hana Ben Mahrez and Sikandar Hayat, ELTE Eötvös Loránd University, Budapest, Hungary
Cug_gw: Overexploitation and groundwater depletion. What are the effects and innovative solution perspectives? by Zhang Yipeng and Wang Qi, China University of Geosciences, Beijing, China
WenGer Not Arsene: Interaction of fluids and metals: novel approaches in economically feasible metal production of geothermal systems. Engineering issues and environmental impacts by Valerie Wendo and VictorGerald Nzewuji, University of Miskolc, Hungary
Pro-gro: Water, sanitation and hygiene: improved knowledge on water quality. What is the perspective for human development? by Abiodun Olugbenga Ajayi and Arinloye Samuel, Federal University Oye Ekiti, Ekiti State, Nigeria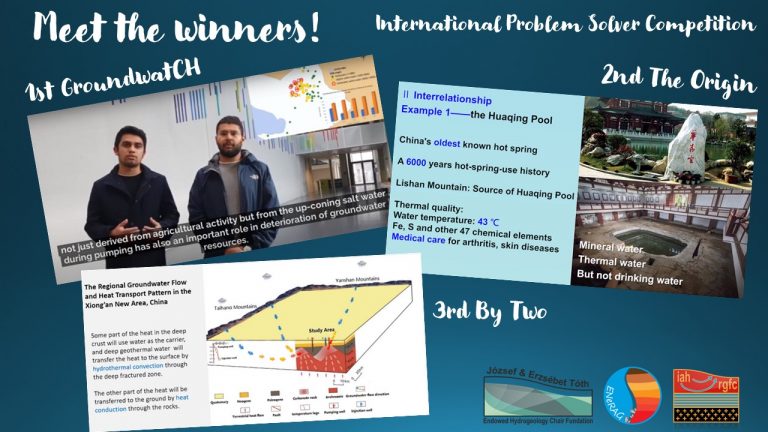 Congratulations to all teams and we are very grateful for their persistent and hard work! All contestants were awarded full-year memberships for the International Association of Hydrogeologists and the best of the bests can attend the International Symposium on Geofluids and the ENeRAG's workshops free of charge.
The final amendment of the videos is in progress taking into consideration the comments of our experts and then the videos will be shared soon. Stay tuned!
EGU General Assembly 2020 – EGU2020: Sharing Geoscience Online
Breaking with tradition, this year the annual EGU General Assembly was held online, in an unusual way at the originally scheduled week between 4-8 May 2020. The event was named EGU2020: Sharing Geoscience Online, which brought part of the activities of the EGU General Assembly 2020 online, as a response to the COVID-19 pandemic situation.
On this online event, RGFC-IAH co-organized a session, 'Groundwater flow and geofluids system understanding with regard to environmental problems and resource management (HS8.2.9)' with the ENeRAG H2020 project. The session's convenors were Manuela Lasagna, Daniela Ducci, Jim LaMoreaux, John Molson, Judit Mádl-Szőnyi, Ádám Tóth, Corrado Camera and Hanneke Verweij. The session aimed to bring together scientists studying different aspects related to groundwater circulation, interaction among fluids of different nature and management of groundwater, geothermal energy and hydrothermal mineral resources.
36 abstracts were submitted to the session, which was held in the form of a live text chat on 5 May 2020 between 2-6 pm. During this timespan, 25 presentations were discussed together with a fantastic number of about 100 individual users, who joined the chat. With this number of participants, this session was one of the most popular in the Groundwater session group.
The EGU General Assembly 2020 in the online format Sharing Geoscience Online was an exciting and new experience for all the attendees. The event gave an excellent chance to meet online and share research and ideas among other researchers. We were happy to try this new platform, thereby also fostering the acquisition of new experiences in geofluid and regional groundwater flow research and we could build new liaison with scientists from all over the world.
Final round and winners of the Problem Solver Competition
The final round of the Competition for Hungarian students was held on 15 November 2019.
This Competition was initiated by the ENeRAG Excellency Network Building for Comprehensive Research and Assessment of Geofluids Horizon 2020 project in collaboration with RGFC-IAH and the József & Erzsébet Tóth Endowed Hydrogeology Chair of the Department of Geology.
University students could enter the two-round competition, which included an online test on the system approach of geofluid systems from the fluid side. Our best four groups competed at this open event by delivering their presentations about the practical aspects and application of the system approach of geofluids regarding issues and examples from their home country. Issues, challenges, possibilities, regulations and limitations were discussed on Managed Aquifer Recharge (MAR), groundwater reinjection, combined heat and metal production and volcanogenic massive sulfide ore deposit (VMS). The Problem Solver Competition aims at the assessment of geofluid resources applying the dynamic system approach by bringing it to the university level.
All of the teams gave fantastic talks and highlighted the interaction of geofluids with different origins and characters. Finally, Team Wenger not Arsene (Valerie Wendo and VictorGerald Nzewuji, University of Miskolc) and Team Miyah (Hana Ben Mahrez and Sikandar Hayat, ELTE) excelled and received the first prize and the special prize went to the Team Aquamarine (Petra Baják, Zsóka Szabó, ELTE).
Registration for EGU, attendance of ENeRAG's workshop, memberships for the next year and other small gifts were granted to the contestants. According to the decision of the invited judges, all teams qualified for the International Problem Solver Competition.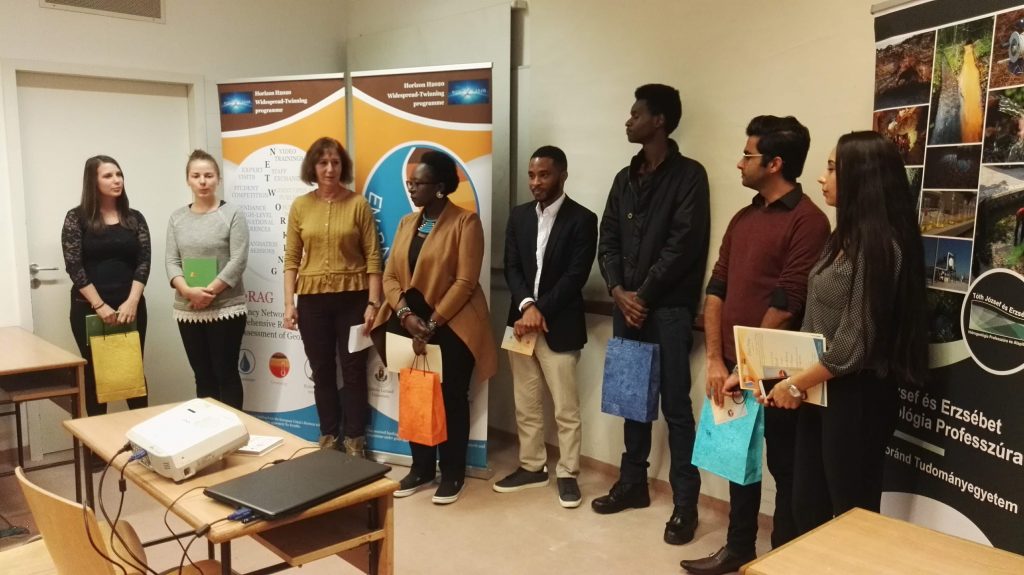 Team Aquamarine: Zsóka Szabó and Petra Baják; judge Annamária Nádor (Mining and Geological Survey of Hungary); Team WenGer not Arsene: Valerie Wendo and VictorGerald Nzewuji; Team VMS: Justine Myovela and Yohannes Kelati (absent); Team Miyah: Sikandar Hayat and Hana Ben Mahrez

46th IAH Congress, Málaga, Spain
The RGF Commission organized a special topic at the annual IAH Congress, 22–27 September 2019, Málaga, Spain. The congress of this year devoted special focus on Groundwater Management and Governance: Coping with Water Scarcity.
The topic entitled Innovative approaches for understanding groundwater flow systems was supported by the EU H2020 ENeRAG (Excellency Network Building for Comprehensive Research and Assessment of Geofluids) project. The sponsored 4 oral and 1 poster sessions dealt with a wide range of methodologies applied in hydrogeology from the more conventional technologies (such as hydrogeological mapping, hydrodynamics, hydrochemistry, isotopes, tracers, etc.) to the most innovative new trends in modelling. Altogether 19 oral and 11 poster presentations were included, they were attended by around 100 delegates of the Congress. We were delighted that many of these provided recent results regarding the theoretical progress, research methods and future development of regional groundwater flow.
In addition, Carlos Molano's Groundwater Spreadsheets short course was devoted to providing the basic concepts and mechanisms of movement and storage of water and chemical compounds in porous media, applying analytical and numerical modelling using spreadsheets. Spreadsheets are powerful tools we use extensively in our lives for many purposes in many fields and are an excellent means to teach and learn groundwater flow and pollution.
Furthermore, RGFC held its annual meeting in Málaga. Review the progress of the ongoing RGFC activities and discuss the further steps and new ideas that were in focus among the 20 Commission members.

Panoramic view of one of the RGFC's oral sessions