Activities
This page features a selection of RGFC's previous international activities, together with links to additional information, resources and reports. We hope the information encourages you to participate.
GAC-MAC-IAH Québec 2019, 12–15 May 2019

The 2019 GAC-MAC-IAH/CNC Conference was held in Quebec City, Canada from May 12-15th 2019 and was a great success. This conference was a combined event, hosting three related associations – the Geological Association of Canada, the Mineralogical Association of Canada, and of course, the Canadian National Chapter of the IAH. As North American co-chairs of the IAH Regional Groundwater Flow Commission, Dr. John Molson (Université Laval) and Dr. René Lefebvre (INRS) participated on the local organizing committee which was chaired by Dr. Michel Malo of the INRS Institute, Quebec City.
Over 740 participants registered for the 3-day conference, including 63 members of IAH/CNC and 19 student IAH members. The conference also included several short courses held on Sunday, and field trips, including to the Charlevoix impact crater about 100 km east of the city. The impact occurred over 400 million years ago and is visible today as a 50-km diameter basin on the edge of the Canadian Shield. The rocks associated with this impact are highly fractured and faulted; of note in the area is the famous Logan Fault which separates units of the Appalachian Orogeny from Palaeozoic sedimentary rocks. Evidence for prior hydrothermal activity was also noted. The area is the most seismically active zone in eastern Canada.
Another field trip entitled Champlain Sea Deltas focussed on Quaternary geology and hydrogeology of landforms resulting from the invasion of the Champlain Sea into the St. Lawrence River Valley following the retreat of the glaciers about 10,000 years ago. Fluvioglacial deposits have formed many good aquifers in the St. Lawrence Valley, while marine clays from the Champlain Sea serve as confining layers which still contain significant chloride concentrations which can degrade water supplies.
Dr Barbara Sherwood Lollar, of the University of Toronto, and 2019 recipient of Canada's highest research award, the Gerhard Herzberg Medal, gave the IAH/CNC keynote address, with an inspiring talk on 1-2 billion-year-old groundwater discovered in deep mines of the Canadian Shield, and of evidence for microbial communities at these depths. Dr. Dick Jackson, of the University of Waterloo and GeoFirma Ltd., and 2013 recipient of the Farvolden Award in Hydrogeology, gave an engaging lunch-time talk on resource development and risks to groundwater.
During the conference, over 10 special sessions focussed on hydrogeology-related topics, including Deep groundwater circulation and its potential influence on shallow water resources and ecosystems, Hydrogeology of cold regions, Groundwater nutrients and contaminants affecting surface waters, Geochemical and isotopic tracers in groundwater studies, Groundwater and Climate Change, Challenges in measuring and modeling of groundwater/surface water interactions, Emerging Contaminants in Soil and Groundwater, and a session on General Hydrogeology. A meeting of the IAH/CNC committee was held on Sunday, and the Annual General Meeting was held later Tuesday afternoon, Chaired by IAH/CNC president, Dr. Diana Allen of Simon Fraser University, British Columbia, Canada. A general poster session was held at the end of each day, over a few refreshing cold drinks.
On Tuesday evening, a dinner-cruise on the Saint Lawrence River was enjoyed by many, including a great view of the Montmorency Falls, which we are proud to say are even higher than Niagara Falls!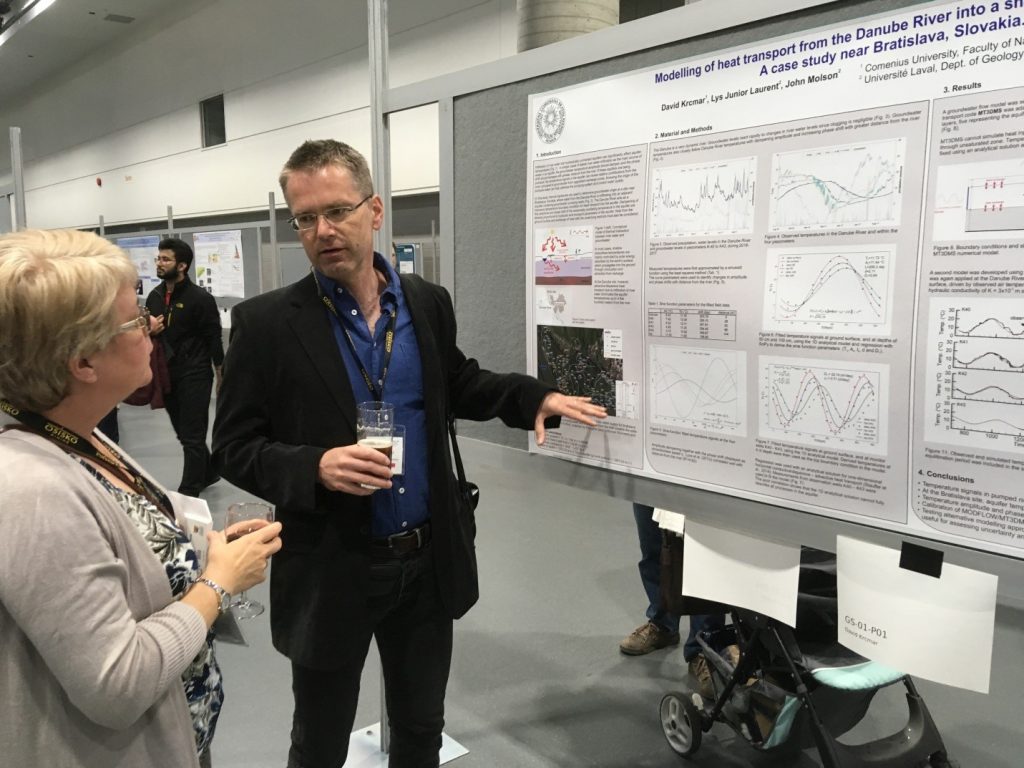 Poster session: Dr. David Krcmar (Comenius University, Bratislava, Slovakia) explaining his poster
to Dr. Diana Allen, president, IAH/CNC Canada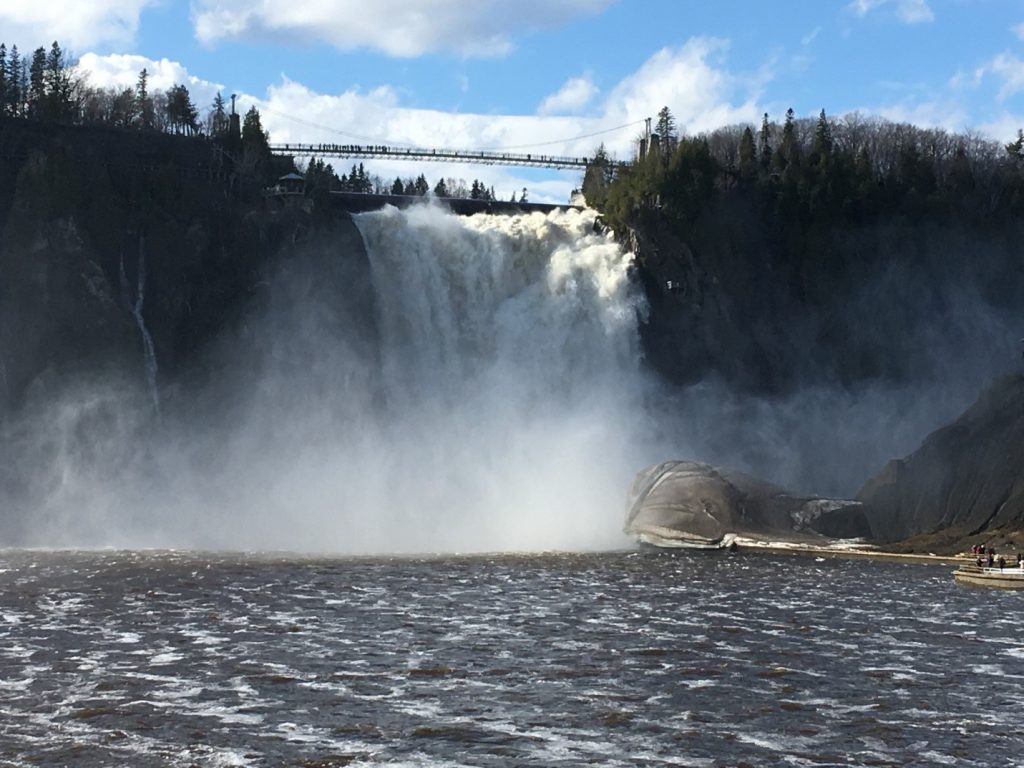 Montmorency Falls, near Quebec City
EGU General Assembly 2019
Our Commission co-sponsored two sessions at the European Geosciences Union (EGU) General Assembly, 7–12 April 2019, Vienna, Austria: "Geofluids as natural resources or sources of contamination: Research and Innovation (supported by RGFC-IAH and ENeRAG)" convened by Daniele Pedretti, Alex Russell, Ádám Tóth, Frank McDermott, Marie-Amélie Petré and "Groundwater flow understanding in water management and environmental problems" convened by Manuela Lasagna, Daniela Ducci, Jim LaMoreaux, John Molson, Judit Mádl-Szőnyi.
The 1+2 oral blocks and the related poster sessions attracted  7+13 oral presentations and 18+16 posters. The freshly launched geofluid session received very positive feedback, its multidisciplinarity and the wide range of topics fostered new ideas and synergies. The "regular" groundwater flow system session was again a great success, it included a broad range of topics and techniques such as groundwater management, geochemical characterization of groundwater flow systems and knowledge of groundwater flow system from local to regional scale. All of the presentations attracted great attention, especially the dynamic poster walk-through session.
Moreover, RGFC and the ENeRAG Geofluids H2020 project had a joint meeting. The collaborators could discuss future activities planned in cooperation, such as a Special Issue on Geofluids.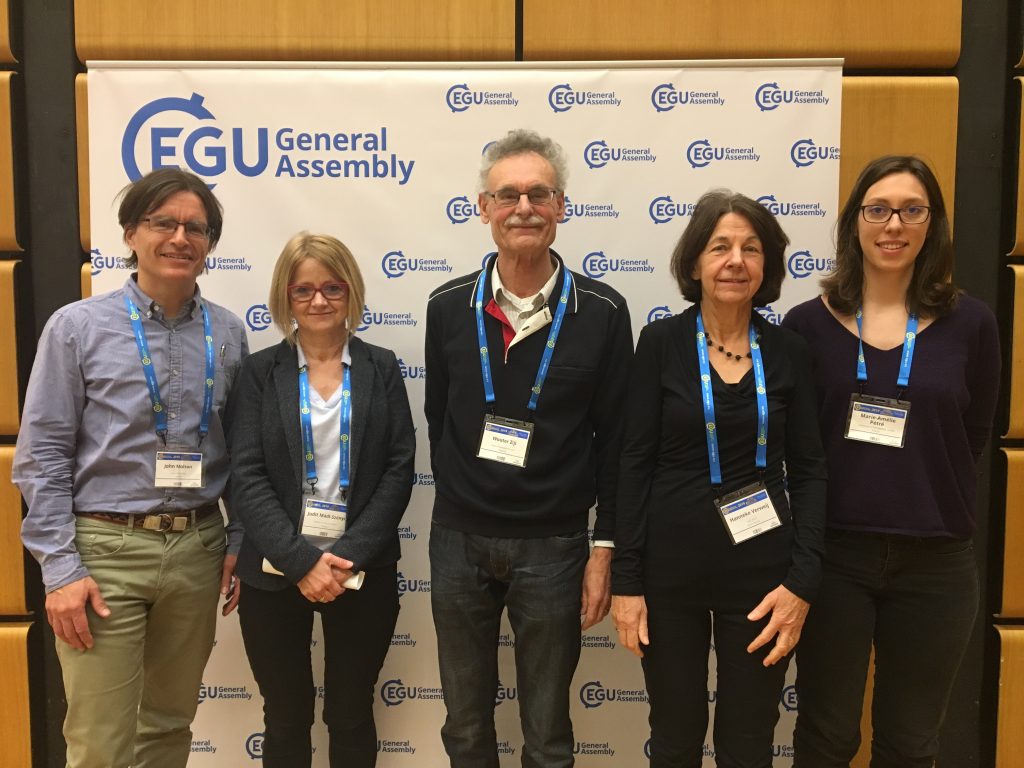 Session conveners, presenters and RGFC representatives: John Molson (Canada, RGFC Co-chair),
Judit Mádl-Szőnyi (Hungary, RGFC Chair), Wouter Zijl (Belgium),
Hanneke Verweij (the Netherlands, RGFC Co-chair) and Marie-Amélie Petré (France)

AGIC2019 Applied Geosciences for Groundwater, Hammamet, Tunisia, 28–30 March 2019
The Laboratory of Georesources (LGR) at the "Centre for Water Research and Technologies (CERTE)" and the "Tunisian Committee of Hydrogeology (TCH)" at the "Association Eau et Développement (AED)", which is the Tunisian Chapter of "International Association of Hydrogeologists (IAH)", were pleased to organize the 2nd Atlas Georesources International Congress (AGIC 2019) in Hammamet, Tunisia. It brought together researchers, research scholars, experts and policy makers to share their research, experiences and discuss recent advances in Applied Geosciences for Groundwater. The conference covered many aspects related to groundwater and had a special session entitled "Regional Groundwater Flow Systems". It anticipated analysing issues connected to groundwater management and related environmental protection defining physical and chemical degradation in the context of groundwater flow system functioning. Contributions related to alternative methods of defining groundwater flow components and their application in establishing, regulating and mitigating negative environmental impacts to and from groundwater were presented.
45th IAH Congress, Daejeon, Republic of Korea
RGFC organized one of the Congress sessions in Topic 7 entitled Innovation in regional groundwater flow understanding. In addition to 16 oral presentations in the session, around 20 other delegates, including students from more than 10 countries contributed with their oral and poster presentations on the topic of regional groundwater flow elsewhere in the Congress. We were delighted that many of these provided recent results regarding the theoretical progress, research methods and future development of regional groundwater flow.
In addition, Joel Carrillo's short course highlighted the importance of the regional groundwater flow. The identification and usage of direct and indirect indicators of the flow systems were discussed in the course using a wide system view. Practical applications of the flow systems include efficient groundwater extraction and integrated water management practice.
Furthermore, RGFC held its annual meeting in Daejeon. Chair Judit Mádl-Szőnyi and Co-chairs Joel Carrillo and Xiao-Wei Jiang summarized the achievements of the past year and discussed tasks for the coming year.

RGFC Annual Meeting