Activities
This page features a selection of RGFC's previous international activities, together with links to additional information, resources and reports. We hope the information encourages you to participate.
45th IAH Congress, Daejeon, Republic of Korea
RGFC organized one of the Congress sessions in Topic 7 entitled Innovation in regional groundwater flow understanding. In addition to 16 oral presentations in the session, around 20 other delegates, including students from more than 10 countries contributed with their oral and poster presentations on the topic of regional groundwater flow elsewhere in the Congress. We were delighted that many of these provided recent results regarding the theoretical progress, research methods and future development of regional groundwater flow.
In addition, Joel Carrillo's short course highlighted the importance of the regional groundwater flow. The identification and usage of direct and indirect indicators of the flow systems were discussed in the course using a wide system view. Practical applications of the flow systems include efficient groundwater extraction and integrated water management practice.
Furthermore, RGFC held its annual meeting in Daejeon. Chair Judit Mádl-Szőnyi and Co-chairs Joel Carrillo and Xiao-Wei Jiang summarized the achievements of the past year and discussed tasks for the coming year.

RGFC Annual Meeting
EGU General Assembly 2018
Our Commission sponsored a session entitled "Groundwater flow understanding in water management: Environmental problems and potential interactions with subsurface water ecosystems" at the European Geosciences Union (EGU) General Assembly, 8–13 April 2018, Vienna, Austria. The 3 oral blocks and poster sessions attracted altogether 18 oral presentations and 25 posters. The session was a great success, it included a broad range of topics and techniques such as groundwater management and its protection from qualitative and quantitative degradation, geochemical characterization of groundwater flow systems and knowledge of groundwater flow system from local to regional scale. The presentations attracted great attention. The presenters came from countries in Europe, Asia, the Americas and Africa to examine and discuss water management and groundwater flow system characterization related issues. The Convenor was Jim LaMoreaux with the help of Co-Convenors: Daniela Ducci, Manuela Lasagna, Xiao-Wei Jiang, René Lefebvre, Luc Aquilina, Judit Mádl-Szőnyi, Christine Rivard, Chrystel Dezayes and Alexis Defresne.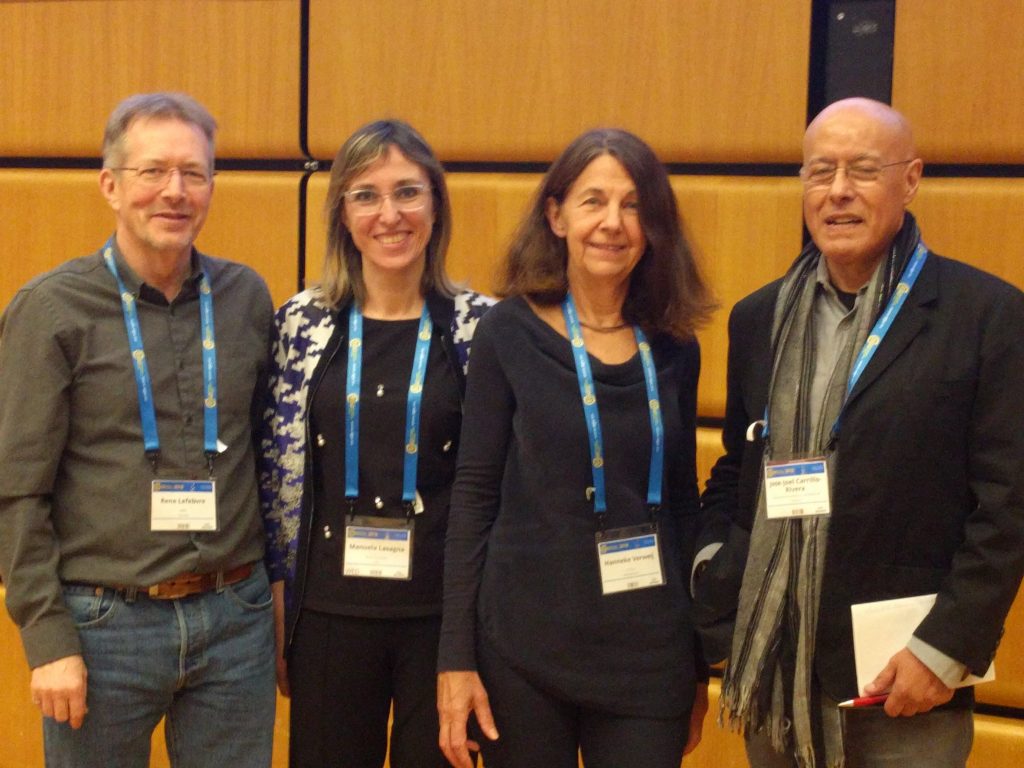 Session Conveners René Lefebvre (RGFC Co-Chair), Manuela Lasagna, presenters and RGFC Co-Chairs Hanneke Verweij and José Joel Carrillo-Rivera
6th International Water Forum Conference
Hammamet, Tunisia, 19-21 March 2018
The IWFC-2018 is the 6th of the ambitious bi-annual scientific international conferences focused on a joint understanding of water sources, groundwater functioning, water resources, as well as in water engineering approaches, management, and technology. This time the IWFC-2018 was held in Hammamet, Tunisia, 19-21 March 2018. The conference aimed to share updated information and methodologies to stimulate scientific discussion and an environmentally orientated communication among participants. This conference encourages the participation of students, experts, scholars as well as decision-makers in agreeable fields related to water, not only from the MENA region but, at an international level to partake in this endeavour. Research abstracts that were programmed to participate presented studies from Algeria, Benin, Canada, Congo, Côte d'Ivoire, Egypt, France,
Germany, Hungary, Italy, Mexico, Morocco, Palestine, Tunisia, Turkey, and United States.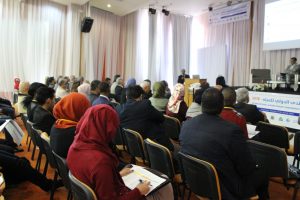 The total number of attendees was 278. The RGFC-IAH Special Session included 10 oral presentations on groundwater flow systems. The meeting had the participation of distinguished groundwater lectures Chair Judit Mádl-Szőnyi, Co-Chair Joel Carrillo-Rivera and Secretary Ádám Tóth, Udo Weyer (Canada), and local participants as Belgacem Agoubi and Faten Telahigue (Higher Institute of Water Sciences and Techniques, Gabes University) and Fayrouz Slama (Higher Engineering School, University of Tunis Al Manar). One of the Conference Chairs and keynote speakers was Joel Carrillo-Rivera.
This event was a very nice occasion for promoting the theory of groundwater flow.

44th IAH Congress, Dubrovnik, Croatia
The Regional Groundwater Flow Commission co-organized a session at the  44th IAH Congress titled Groundwater management and energy source development in a changing climate (T 1.2). The oral and poster sessions attracted several contributions in a wide range of topics including surface water-groundwater connection, managed aquifer recharge, groundwater management, numerical and geochemical analysis and predicted effects of climate change. The session was conveyed by Ádám Tóth (Eötvös Loránd University, Budapest, Hungary, RGFC Secretary) and Roland Barthel (University of Gothenburg, Sweden).
Regional groundwater theory was also present at other topics and sessions such as karst hydrogeology, hydrochemistry of thermal and mineral waters and groundwater-dependent ecosystems. During the social events and breaks, the Commission offered willingly its support to the organisers of the upcoming IAH Congress held in Daejeon, South Korea.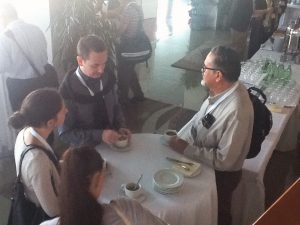 The representatives proposed some topics and possible sessions to enrich the Korean Congress. The details of the planned CRC blue book was also discussed with Janjaap Blom (CRC Press). The need of cooperation between Groundwater and Energy and Regional Groundwater Flow Commissions was realized as well.
RGFC Coffee break: fruitful discussion while enjoying the coffee with Carlos Molano,  Vice President – Latin America and the Caribbean
Characterizing regional groundwater flow systems: Insight from practical applications and theoretical development, 26–28 June 2017, Calgary, Canada
Calgary Symposium was organised by the Regional Groundwater Flow Commission in cooperation with the Canadian National Chapter of IAH. The two-day-long Symposium had altogether 65 oral and poster presentations and 2 keynote lectures: Okke Batelaan had a talk about the past, present and future of flow systems, and Grant Garven presented geofluids leakage along an active plate boundary. Distinguished guest Prof. Joe Toth – claimed himself as the dinosaur of hydrogeology – summarised the takeaway message of the fruitful and scientifically rich Symposium: "The theory is very much alive and it is broadening".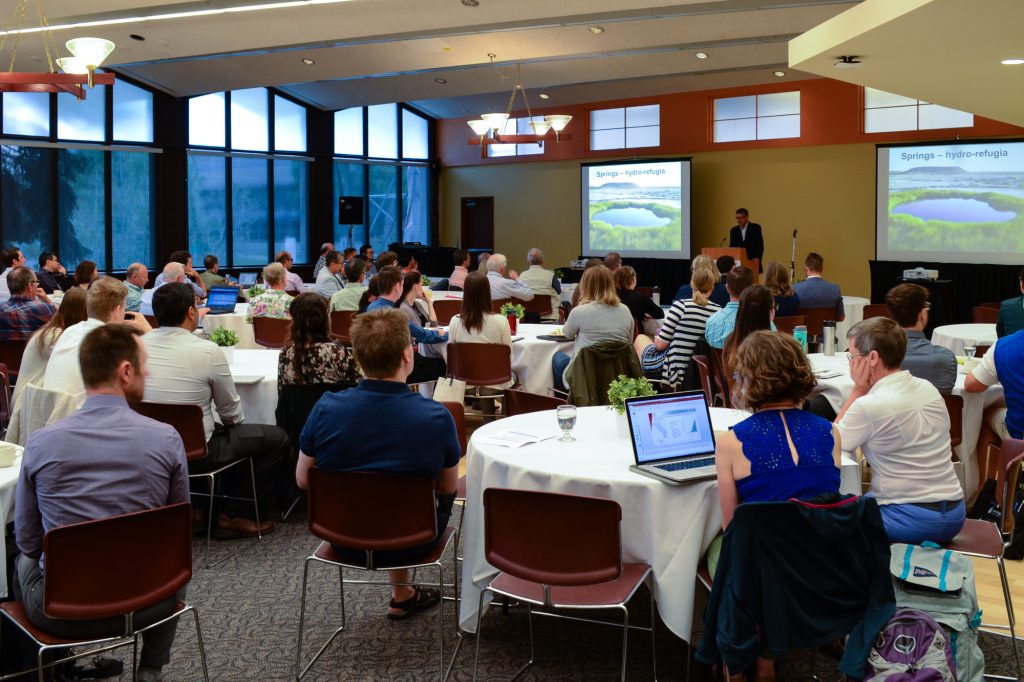 Keynote Lecture of Okke Batelaan