Activities
This page features a selection of RGFC's previous international activities, together with links to additional information, resources and reports. We hope the information encourages you to participate.
Characterizing regional groundwater flow systems: Insight from practical applications and theoretical development, 26–28 June 2017, Calgary, Canada
Calgary Symposium was organised by the Regional Groundwater Flow Commission in cooperation with the Canadian National Chapter of IAH. The two-day-long Symposium had altogether 65 oral and poster presentations and 2 keynote lectures: Okke Batelaan had a talk about the past, present and future of flow systems, and Grant Garven presented geofluids leakage along an active plate boundary. Distinguished guest Prof. Joe Toth – claimed himself as the dinosaur of hydrogeology – summarised the takeaway message of the fruitful and scientifically rich Symposium: "The theory is very much alive and it is broadening".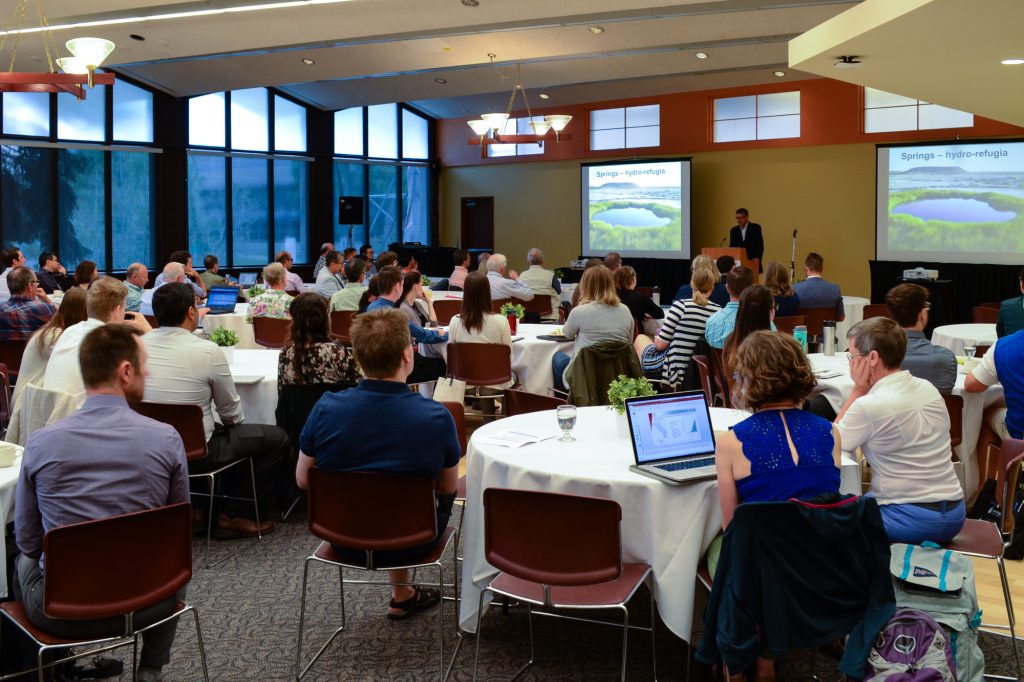 Keynote Lecture of Okke Batelaan
EGU General Assembly 2017
Our Commission co-organized a session entitled "Groundwater Vulnerability and Circulation" at the European Geosciences Union (EGU) General Assembly 23-28 April 2017, Vienna, Austria. The session attracted 6 oral presentations and 18 posters. During the oral presentations, around 40 people attended the session. The session included a broad range of techniques such as hydrochemistry, environmental tracers, and numerical modelling. These methods have been applied in countries in Europe, Asia, America and Africa to examine groundwater vulnerability and circulation problems.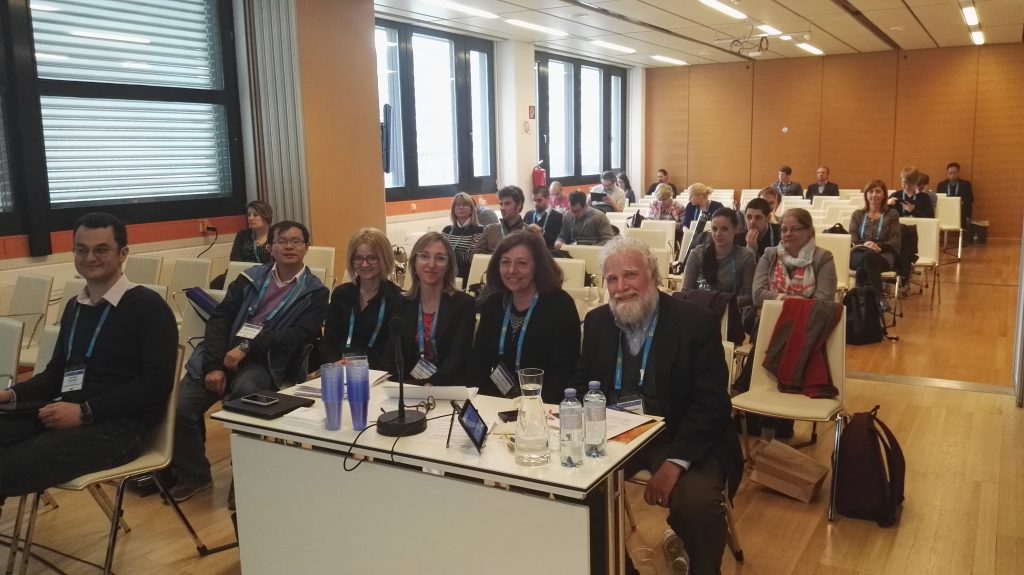 Session conveners: Xiaowei Jiang, Judit Mádl-Szőnyi, Manuela Lasagna, Daniela Ducci and Jim LaMoreaux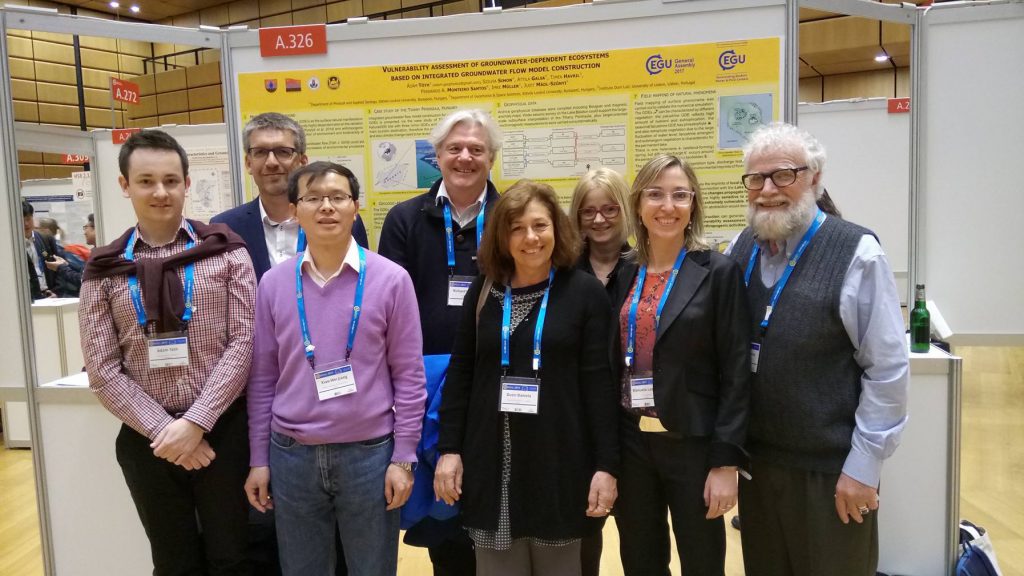 RGFC Secretary Ádám Tóth, Co-Chairs Okke Batelaan and Xiao-wei Jiang, Richard Martel, Session Co-Conveners Daniela Ducci, Judit Mádl-Szőnyi (RGFC Chair) and Manuela Lasagna,
Session Convenor Jim LaMoreaux
Visit of Joel Carrillo-Rivera in Budapest
Prof. Carrillo-Rivera had an academic visit 24-31 March 2017 in Budapest supported and financed by the Hungarian Ministry of Foreign Affairs and Trade. He had a talk on Groundwater law proposal for Mexico at the Directorate of Water Management of Hungary. In the frame of József & Erzsébet Tóth Endowed Hydrogeology Chair, Prof. Carrillo-Rivera gave a short course entitled Groundwater flow systems and vertical flow, which was attended by master and PhD students of the Eötvös Loránd University.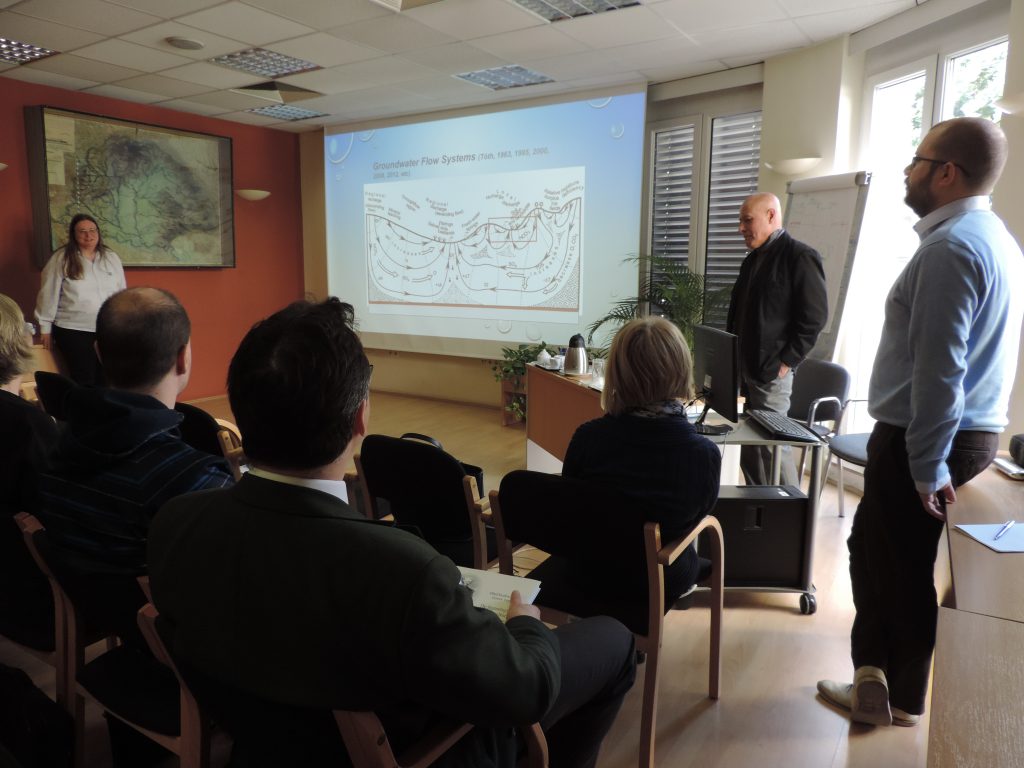 Lecture at the Directorate of Water Management of Hungary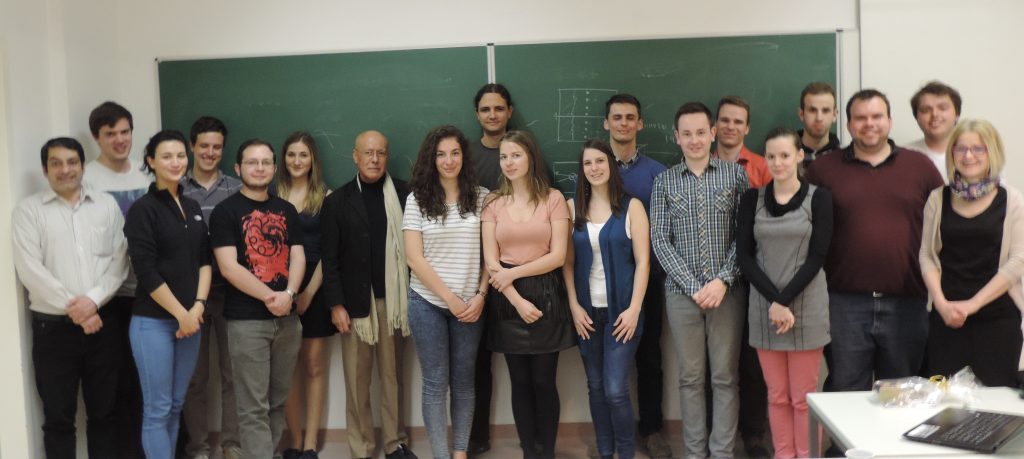 Attendees of the short course at the Eötvös Loránd University
GSA 2016 Meeting, Denver
The Commission co-sponsored a session at the Geological Association of America (GSA) Annual Meeting in Denver, Colorado (25 to 28 September 2016). The session was entitled "Approaches to characterizing groundwater flow systems at the watershed-scale for water management and regulation" and attracted 13 oral presentations and 13 posters. The session was very well attended (40 to 90 people during the oral presentations) and included presentations from RGFC's own Brian Smerdon (session co-chair) and Xiao-Wei Jiang. Many of the presentations focused on achieving a balance between measurements at discrete points and using these to provide insight to large regions. The session included a broad range of techniques such as classical hydraulic analysis (hydraulic heads and water levels), use of environmental tracers, and numerical modelling.
Beyond our session, the regional groundwater flow concept was observed in several other sessions, including "Quantifying Groundwater/Surface Water Interactions in the Field and on the Computer", "Can't Take the Heat? Temperature as an Indicator and Tracer of Environmental Change", and "From Pores to Mountains, and Minutes to Millennia: Session Dedicated to the Contributions of Rob Bowman, Fred Phillips, and John Wilson".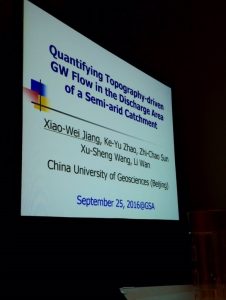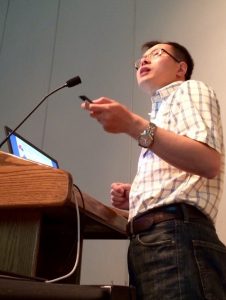 Presentation of Xiao-Wei Jiang at the GSA Meeting 2016, Denver
43rd IAH Congress at Montpellier, France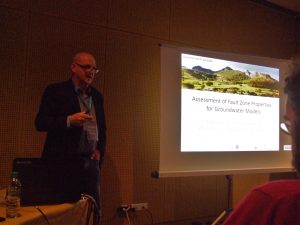 The Commission organized sessions at the IAH Congress in celebration of IAH's 60th anniversary titled Verification of conceptual patterns and expected natural effects of regional groundwater flow by interpretation of relevant field observations. The session's objective was to encourage comparisons between theoretical predictions of flow patterns and their natural effects in a given study area, on one hand, and measurable parameters of their real-life flow-fields and empirically observed manifestations of interaction between moving groundwater and its environment in the same area, on the other. The two oral sessions and one e-poster session covered the topics of fault zone hydrogeology, petroluem hydrogeology, ecohydrogeology, numerical simulation of groundwater flow and basin hydrodynamics, especially the linkage of observed                Presentation of Jim Underschultz
manifestations of flowing groundwater and modelling of                              on fault zone hydrogeology
subsurface processes.
Conveners were Judit Mádl-Szőnyi (Eötvös Loránd University, Hungary), René Lefebvre (Centre Eau Terre Environnement, INRS, Canada), Carlos Molano (Universidad de los Andes, Colombia), John Molson (Université Laval, Canada), Jose Joel Carrillo-Rivera (UNAM, Mexico) and Ádám Tóth (Eötvös Loránd University, Hungary).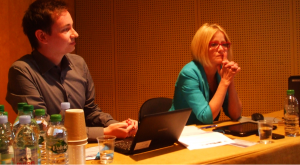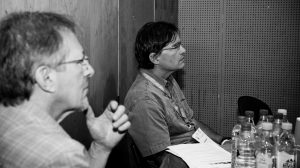 Chairs Ádám Tóth, Judit Mádl-Szőnyi, René Lefebvre, and John Molson