Activities
This page features a selection of RGFC's previous international activities, together with links to additional information, resources and reports. We hope the information encourages you to participate.
International Symposium on Geofluids
The International Symposium on Geofluids was organized by the ENeRAG H2020 project in collaboration with the Eötvös Loránd University (ELTE), the József and Erzsébet Tóth Endowed Hydrogeology Chair Foundation. The scientific objectives of the event were supported by the Regional Groundwater Flow and the Managed Aquifer Recharge Commissions and the Hungarian National Chapter of the International Association of Hydrogeologists (IAH), the MOL Group and the Water MDPI Journal.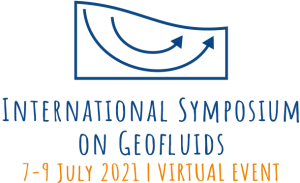 The virtual event was held 7-9 July 2021 with the main objective of bringing together scientists, professionals, and stakeholders to share and discuss all kinds of topics in geofluids, and especially groundwater, to highlight the interaction among geothermal energy, hydrocarbon, geogenic contamination and hydrothermal mineral resources.
The symposium featured 40 live lectures and 28 poster presentations on 5 main topics and the audience came from 26 different countries. 
Main Topics and Sessions were: 
Energy flow systems, groundwater flow systems, related fluids and their simulations

 

Managed aquifer recharge, adaptation to climate change and ecohydrology

 

Geoenergy, thermal water and hydrocarbon systems

 

Natural and anthropogenic contamination, vulnerability and hazards of geofluids

 

Fluid–

rock interactions and hydrogeochemical reactions

 
The standard of the event was elevated by the presentation of5 internationally renowned keynote speakers (Inga Berre from Norway, Xiao-Wei Jiang from China, Niels Hartog from the Netherlands, Vincent Post from the Netherlands, Daniele Pedretti from Italy) who shared their forward-looking and high-quality research findings with the participants. 
An Interactive workshop was organized within the framework of the event, where Judit Mádl- Szőnyi, Brigitta Czauner and Ádám Tóth, demonstrated the dynamic systems approach, involving the audience with thought-provoking questions.
The symposium also included social events, where participants were able to get an insight into the mysteries of the Hungarian cuisine with a cooking competition held within the framework of the virtual gala dinner, as well as they were able to visit the streets of Budapest and get acquainted with the diverse architecture of Hungarian capital during a virtual sightseeing tour. 
Judit Mádl-Szőnyi said goodbye with the following thoughts: 
"The topic of geofluids connects all of us arriving from different backgrounds, professions and various stages in our career. We could learn that the understanding of flow systems and the dynamic system approach can be the key to formulating new scientific questions, and to finding solutions to theoretical and practical environmental issues."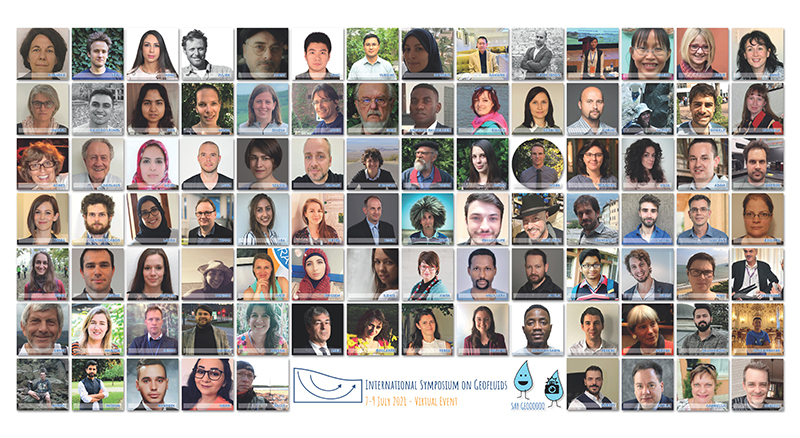 vEGU2021 – Gather Online
Due to the continuing pandemic situation, this year the annual EGU General Assembly was held online (just like in 2020). The events of the EGU 2021 conference were scheduled between 19-30 April 2021. vEGU21 included 18,155 scientists from 136 countries, attending 13 643 live presentations in 642 scientific sessions.
On this online event, RGFC-IAH organized a session named "The role of groundwater flow systems in solving water management and environmental problems" and convened by John Molson, Daniela Ducci, Jim LaMoreaux, Manuela Lasagna and Judit Mádl-Szőnyi. The session aims to bring together scientists studying various aspects related to groundwater flow systems, and their role in solving water management and environmental problems. 36 abstracts were submitted to the session, which was held in the form of 2-minute-long vPICO presentations followed by break out room discussion.
The EGU General Assembly 2021 in the online format was an exciting experience for all the attendees again. The event gave an excellent chance to meet online and share research and ideas among other researchers. We were happy to try the new platform, thereby also fostering the acquisition of new experiences in geofluid and regional groundwater flow research and we could build new liaisons with scientists from all over the world.
Final round and winners of the International Problem Solver Competition
Around a year ago, we announced the list of teams qualified for the final round of our Competition. Due to the currently developed new situation, our lives, daily routines, social activities and work habits have been changed. We were in contact with our contestants to monitor their progress in video-making to give them enough time for preparation. Finally, by the end of 2020, 7 short movies were submitted and now we are happy to announce the final results made by an international jury of 4 experts at the end of this long journey.
GroundwatCH: Coordinated management and sustainability of land use and agriculture. How groundwater is affecting and affected? What are the concerns, limits and effects? by Aditya Vikram Jain and Ricardo Leonel Marroquín Paíz, IHE-DELFT, Institute for Water Education, UNESCO, Delft, the Netherlands
The Origin: The drinking water – mineral water – thermal water nexus: interrelationship and aligned management. Where are the borders in quality and quantity? by Ji Taotao and Tang Xulin, China University of Geosciences, Beijing, China
By Two: Numerical simulation of coupled fluid–heat–matter transport. What are the next-generation application aspects and possibilities? by Ying Tan and Jiaxin Shi, China University of Geosciences, Beijing, China
Miyah: Can Managed Aquifer Recharge (MAR) mitigate groundwater depletion? Issues, aspects and possibilities in groundwater quantity augmentation and quality amelioration by Hana Ben Mahrez and Sikandar Hayat, ELTE Eötvös Loránd University, Budapest, Hungary
Cug_gw: Overexploitation and groundwater depletion. What are the effects and innovative solution perspectives? by Zhang Yipeng and Wang Qi, China University of Geosciences, Beijing, China
WenGer Not Arsene: Interaction of fluids and metals: novel approaches in economically feasible metal production of geothermal systems. Engineering issues and environmental impacts by Valerie Wendo and VictorGerald Nzewuji, University of Miskolc, Hungary
Pro-gro: Water, sanitation and hygiene: improved knowledge on water quality. What is the perspective for human development? by Abiodun Olugbenga Ajayi and Arinloye Samuel, Federal University Oye Ekiti, Ekiti State, Nigeria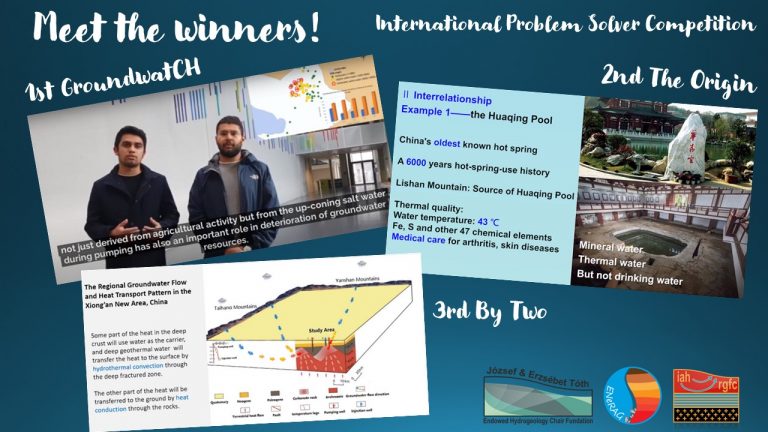 Congratulations to all teams and we are very grateful for their persistent and hard work! All contestants were awarded full-year memberships for the International Association of Hydrogeologists and the best of the bests can attend the International Symposium on Geofluids and the ENeRAG's workshops free of charge.
The final amendment of the videos is in progress taking into consideration the comments of our experts and then the videos will be shared soon. Stay tuned!